50 United Nations Plaza Federal Office Building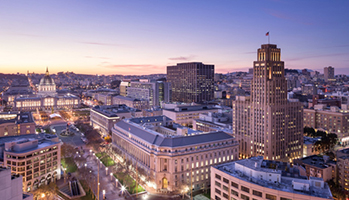 50 United Nations Plaza
San Francisco, CA 94102
50 United Nations Plaza is a cornerstone of the San Francisco Civic Center and is listed on the National Register of Historic Places. It is the home of GSA regional headquarters offices for the Pacific Rim Region.
Building information
Property Manager: Herman Stribling
Public Hours: 6 a.m.–6 p.m. Monday through Friday (except federal holidays)
For more building information or service calls, see contact information at top right (or by scrolling down on mobile devices). For other federal government information, call 800-FED-INFO.
Parking and public transportation
There is no on-site parking available at 50 UNP. Public parking is available at garages and parking lots on Larkin Street, Turk Street, and the Civic Center off of McAllister Street. Metered street parking is nearby. Public transportation is available via BART and Muni.
Public access
Members of the public are eligible for entry with a tenant escort during public hours. All public visitors are required to pass through electronic security equipment on the first floor. ADA access is available at the UN Plaza entrance to the building.
Key tenants
Major tenants are GSA, U.S. Department of Transportation, and U.S. Department of Education. In the 2016 Tenant Satisfaction Survey, 83% rated the federal building and GSA services four or five on a five-point scale.
Building services
Amenities
Open to
Location
Hours of operation
Plaza Cafe
Tenants and Building Visitors
1st floor
M-F 6:30 a.m. to 2 p.m.
Vending Machines
Tenants and Building Visitors
Basement, next to Room 0697
24/7
Fitness Center
Federal Employees Only
Basement
M-F 6 a.m. to 6 p.m.
Health Unit
Federal Employees Only
Basement
Tu, Th 9 a.m. to 3:30 p.m.
W 9 a.m. to 4 p.m.
Art in Architecture
See the fine art collection at this building.
History and architecture
Constructed in 1936, the building served 74 years without a major renovation and survived a catastrophic earthquake. It is listed on the National Register of Historic Places as a contributing building to the San Francisco Civic Center National Historic Landmark District. In 2017, the building was added to the National Register of Historic Places as a standalone building under categories A and C. The building's original architect, Arthur Brown, Jr., was a prominent San Franciscan and also the designer of San Francisco City Hall and the San Francisco Opera House.
The Architect of Record for the renovation was HKS, Inc.
Renovations included environmental remediation; new mechanical, electrical, lighting, and plumbing systems; roof replacement and refurbishment of existing historic wood windows; and restoration of the historically significant interiors and central courtyard as well as redesign of office interiors.
Awards
With renovations completed in 2013, the building achieved a LEED® Platinum rating from the U.S. Green Building Council and has won prestigious design and reconstruction awards:
Added to the National Register of Historic Places, 2017
PBS Commissioner Award for Service, U.S. General Services Administration, 2014
Federal Building Champion, Favorite Green Building, U.S. General Services Administration, 2014
Design Awards, Honor Award for Historic Preservation, U.S. General Services Administration, 2014
Project Achievement Awards, Construction Management Association of America (CMAA), 2014
Year in Review, Public Art Network, 2014
Project Management Awards, U.S. General Services Administration, 2014
Design Awards, Rehabilitation, California Preservation Foundation, 2014
Reconstruction Awards, Gold Award, Building Design+Construction, 2014
National Project Achievement Award, Buildings Renovation/Modernization > $15 Million, Construction Management Association of America (CMAA), 2014
California's Best Projects, Award of Merit, Engineering News Record, 2014
Energy Star Challenge, EPA, 2012
Occupant information
As a historic and sustainable building in San Francisco's Civic Center, we are excited to welcome you! We encourage you to explore and experience the unique features of our landmark building. This online resource provides 50 UNP tenants with information on building services, amenities and green systems, as well as instructions on window, fan and steam radiator operation. As you settle in here please take the time necessary to familiarize yourself with the content. We intend this to be a living and valuable resource to enhance your working experience.
Amenities
50 United Nations Plaza offers a number of on-site amenities and services.
USPS and UPS services are available, as well as messenger and other deliveries. UPS drop box is located in the basement in Room #0564.

50 UNP is a high-performance green building that uses daylight and natural ventilation to regulate indoor air temperature. Help minimize the building's footprint:
Prohibited
Weapons
Smoking
Solicitations
Electrical appliances
Allowed with discretion
Photography
Plants
Wall-mounted items
Alcoholic beverages
Contact us
How are we doing? Does this site meet your needs? Email us any feedback.