Robert F. Peckham Federal Building and U.S. Courthouse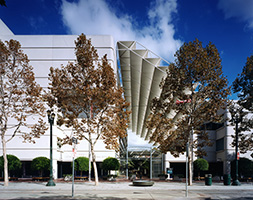 280 S 1st St
San Jose, CA 95113
The five-story courthouse is part of the United States District Court's Northern California district. It is the San Jose branch serving Santa Clara, San Benito, Santa Cruz and Monterey Counties.
Building information
Property manager: Robert Moctezuma
Public hours: 8 a.m.–5 p.m. Monday through Friday (except federal holidays)
For more building information or service calls, see contact information at top right (or by scrolling down on mobile devices). For other federal government information, call 1-800-FED-INFO.
Parking and public transportation
There is paid covered parking at the Second and San Carlos Street Garage. Public transportation is available via Santa Clara Valley Transportation Authority.
Public access
All public visitors are required to pass through electronic security equipment located on the first floor. ADA access is available at the main entrance of the building.
Key tenants
Major tenants are the U.S. District Court, SSA, Office of Disability Adjudication and Review, U.S. Probation, and U.S. Bankruptcy Court. In the latest (2016) Tenant Satisfaction Survey, 66% rated the federal building and GSA services four or five on a five-point scale. Find additional information for tenants on this page.
Building services
| Amenities | Open to | Location | Hours of operation |
| --- | --- | --- | --- |
| Vending machines | Public | 1st floor, 2nd floor room 2147 | 8 a.m. to 5 p.m. (access limited to when jury assembly is open) |
History and architecture
Located in the Central Business District on prime real estate in downtown San Jose, the facility consists of two low-rise steel framed buildings with concrete exteriors connected by a canopy-covered courtyard. The canopy is constructed with large crystal prisms that catch and reflect rainbow hues into the courthouse lobbies.
The building is named after the late Judge Peckham, a former chief district judge of the Northern District who helped pioneer use of legal means other than court trials to resolve disputes. The Northern District's Alternative Dispute Resolution program took root under his leadership and has since become one of the most innovative and successful in the nation.
Occupant information
Access and hours of operation
The building is fully operational (lighting and HVAC services) from 7 a.m. to 5 p.m. Monday through Friday excluding federal holidays. Tenants may access the building 24 hours a day/7 days a week including federal holidays. A key card will be required for access at all times.
Key cards (PIV and PIV-I only) are not available for tenant agency employees for after-hours access. All requests for PIV key cards must be submitted through the tenant agency's management to the GSA Property Manager for approval. Requests will then be given to the operations and maintenance contractor to process. Their office is located on the first floor in room 1125. Their telephone number is 408-535-5300.
Security
Contract guard service is in place to protect the property and the tenants. Your help is needed; cooperation and awareness will help them do their job. Guards are on duty from 6 a.m. to 6 p.m. Monday through Friday excluding federal holidays. For all emergency or security concerns, or if no guard is available please call FPS Denver Mega Center at 1-877-437-7411.
Joint use/shared services
Standard services are commonly included as part of the rent charged by GSA as documented in the Occupancy Agreement. Reimbursable services are normally excluded from the rent and are funded through a Reimbursable Work Authorization (RWA). Examples include after-hours lighting, special or after-hours cleaning, office space carpet cleaning, uninterruptible power services, and non-standard trash removal.
Conference room: Located on the first floor in suite 1198 there is one joint-use conference room available for tenant use. The conference room seats approximately 75. Audiovisual capabilities and equipment include full video projection with audio and an overhead projector. The conference room is available for building tenants from 8 a.m. to 5 p.m. Monday through Friday excluding federal holidays on a first-come, first-served reservation basis at no cost. Room use outside these hours is possible through special arrangements with the GSA Property Manager and payment of overtime utility and security costs.
Please contact the GSA Property Management Office at 408-535-5300 to schedule use.
Building operations
Maintenance and service requests: Please contact the GSA Property Management Office at 408-535-5300 during the hours of 7:30 a.m. to 5 p.m. Monday through Friday, excluding holidays, for janitorial, HVAC, elevator, lighting, or any other service provided by GSA in our building. A mechanic is on duty from 6:30 a.m. to 5 p.m. Monday through Friday.
Custodial services: GSA provides cleaning for assigned space equal to commercial cleaning for similar space. The following services are standard: vacuuming, sweeping and dusting; emptying trash; servicing restrooms, lobbies, corridors, and other common areas; servicing loading docks and platforms; washing windows; and pest control. Carpet spot removal can be done on an as-needed basis. Overall shampooing is done as a reimbursable service and should take place on a regular basis to preserve the appearance and condition of the carpet.
Lighting/HVAC: Ten hours of heating, ventilation, air conditioning, and lighting are provided at no additional cost during normal duty hours. Additional service outside this timeframe is available on a reimbursable basis with advanced notice to the GSA Property Management Office at 408-535-5300.
Utility closets: Tenant and tenant vendor access to electrical and telephone closets can be obtained by contacting the operations and maintenance contractor at 408-535-5300. Please do not install equipment in these closets without first contacting the GSA Property Management Office.
Tenant-controlled space alteration: Space alterations should not be performed without first contacting the GSA Property Manager. GSA can provide alteration solutions to meet your needs. Alteration projects are normally funded through a Reimbursable Work Authorization (RWA). Also, it is building policy that work that might disrupt building tenants (e.g. paint fumes, construction noise, etc.) be accomplished after standard building operating hours.
Under the conditions above, if you are authorized to perform alterations within your space, you must adhere to all building-specific regulations with respect to contractor access, clearance procedures, and all other conditions governing general access and security controls relative to this building.
For any questions, please call the Property Manager 415-522-3278.
Miscellaneous topics
Occupant emergency plan: As the lead tenant in this building, the U.S. District Court is responsible for creating and updating the Occupant Emergency Plan. Please take time to become familiar with it, and participate in Building Security Committee meetings.
Displays: Please do not post or display any material outside tenant space without first contacting the Property Manager at 415-522-3278. Displays may be posted in the lobbies, but again, please contact the Property Manager prior to taking any action.
Personal property: Please do not put surplus items in building common space (i.e., corridors, elevators, loading dock, etc.). Doing so may impede egress should the building need to be evacuated. GSA will be glad to advise you about excessing surplus property.
Loading docks: The loading dock is open from 7 a.m. to 5 p.m. Scheduling the use of the loading dock for deliveries, moves, etc., can be arranged through the operations and maintenance contractor or the GSA Property Management Office at 408-535-5300. A guard must be present at all times while basement doors are open, so it is imperative that the GSA or on-site maintenance contractor be informed at least 24 hours advance to make these arrangements.
If a vehicle(s) will be at the dock for more than one hour, it must be attended in the event it needs to be moved for other deliveries/services.
Deliveries: To minimize disruption to other occupants, we encourage tenants to arrange large deliveries outside of normal business hours. In the event of after-hour activities, the tenant will be responsible for arranging guard services by contacting the Federal Protective Service at 415-265-9772 or by emailing alvaro.lopez@hq.dhs.gov.
Recycling: Tenants are encouraged to take advantage of the building-wide recycling program, which includes paper, glass bottles and jars, metal cans, plastic containers and cardboard. Any questions regarding recycling, please contact the janitorial contractor supervisor at 408-535-5300 or the Property Manager at 415-522-3278.