Chief Financial Officer
Nimisha Agarwal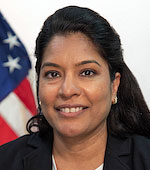 Nimisha Agarwal is the Chief Financial Officer of the U.S. General Services Administration.
In this role, she is responsible for the management of the more than $30 billion in funding that flows through the agency and more than 500 financial personnel at GSA's central office and its 11 regions nationwide. Ms. Agarwal oversees all financial functions and activities, including strategic planning, performance management, budgeting, accounting, analytics and reporting, financial operations, and audits.
Most recently, Ms. Agarwal was the Acting Deputy Associate Administrator at the Federal Insurance and Mitigation Administration, part of the Federal Emergency Management Agency. She brought a strategic enterprise perspective by connecting decision making across various aspects of FIMA. Prior to this, she served as the Assistant Administrator for Fund Management at FIMA. Prior to joining FEMA in August 2019, Ms. Agarwal served as Comptroller for Immigration and Customs Enforcement, overseeing financial management operations for the agency. She also held a variety of leadership positions within ICE's Office of the Chief Financial Officer.
Ms. Agarwal has over 25 years of experience in strategic planning, budget administration, policy institution, and human resource management. Her robust background in all areas of financial management include budget formulation and justification, business process reengineering, audit preparedness, and financial system modernization.