300 North Los Angeles Street Federal Building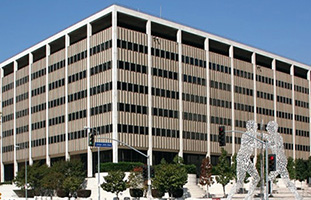 300 N Los Angeles St
Los Angeles, CA 90012
You can walk from Union Station in seven minutes. The Edward R. Roybal Federal Building and U.S. Courthouse is adjacent at 255 E Temple St.
Building information
Property Manager: Myrna G. Barragan
Public Hours: 7 a.m.– 5 p.m. Monday through Friday (except federal holidays)
For more building information or service calls, see contact information at top right (or by scrolling down on mobile devices). For other federal government information, call 1-800-FED-INFO.
Parking and public transportation
There is no parking available in the building for the general public. Metered street parking is nearby. Commercial parking lots are within walking distance to the building. Public transportation is available via Metro.
Public access
All public visitors are required to pass through electronic security equipment. ADA access is available at the front entrance of the building.
Key tenants
Major tenants are the U.S. Citizenship and Immigration Services, IRS, HUD, U.S. Immigration and Customs Enforcement, and the Executive Office for Immigration Review. Additional information for tenants >
Building services
| AMENITIES | OPEN TO | LOCATION | HOURS OF OPERATION |
| --- | --- | --- | --- |
| Coffee Cart | Public | 1st floor lobby | M-F 6:30 a.m. to 2 p.m. |
| Cafeteria | Public | 2nd floor | M-Th 7 a.m. to 1 p.m. |
| Snack Bar | Public | 3rd floor | M-F 7:15 a.m. to 3:30 p.m. |
| Barber Shop | Public | Basement | By appointment |
| Shoeshine | Public | 1st floor | M-F 7:30 a.m. to 3 p.m. |
| Vending Machines | Public | 1st, 2nd, 4th, 8th floors | 24/7 |
| Credit Union/ATMs | Public | 1st floor | M-F 8 a.m. to 5 p.m. |
| Post Office | Public | 1st floor | M-F 8 a.m. to 4:30 p.m. |
| Fitness Center | Federal Employees Only | 8th floor room 8531 | Temporarily Closed |
| Health Unit | Federal Employees Only | Roybal Building | M-F 7:30 a.m. to 4 p.m. |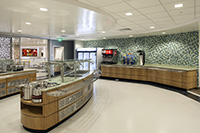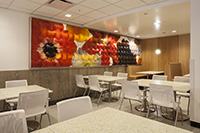 Photos: Interactive Resources
Renovations
The updated cafeteria has a LEED® Gold designation.
Art in Architecture
See the fine art collection at this building.
History and architecture
300 North Los Angeles Federal Building is on the National Register of Historic Places. The building forms a single cubic mass, eighteen bays wide by eight bays deep. The perimeter columns are clad in marble panels that extend the full height of the building, delineating the structural bays. A band of marble continues around the roofline to form a simple cornice. The walls of the first, second, and eighth stories are primarily of metal-framed glazed storefront and are set back from the column line, creating a perimeter colonnade around the base of the building and a covered loggia around the top, each with textured plaster soffits and recessed metal can lights. Solid wall panels at the first two stories are veneered in mosaic tile. The third through seventh stories are wrapped with ribbon windows with staggered aluminum mullions, alternating with bands of precast polished aggregate spandrel panels.
The primary entrance is symmetrically located on the west façade and consists of a wide, T-shaped canopy projecting from the colonnade over the west terrace and entrance steps. The canopy is supported on square, marble-veneered columns and shelters an entrance pavilion with floor-to-ceiling walls of metal-framed glass. The entrance doors are fully glazed, metal-framed automatic sliding doors. The entrance pavilion is flanked by two mosaic murals, Celebration of our Homeland and Recognition of All Foreign Lands, designed by noted Los Angeles artist Richard Haines and executed by the Ravenna Mosaic Company.
Occupant information
Access and hours of operation
The building is fully operational (lighting and HVAC services) from 7 a.m. to 5 p.m. Monday through Friday excluding federal holidays. Tenants may access the building 24 hours a day/7 days a week including federal holidays. A key card will be required for after-hours access.
Key cards are available for tenant agency employees for after-hours access. All requests for key cards must be submitted through the tenant agency's management to the GSA Property Manager for approval. Programming is Tuesday, Wednesday and Thursday 11 a.m. to noon and 1 to 2 p.m. at the GSA office in suite 4300.
Security
Contract guard service is in place to protect the property and the tenants. Your help is needed; cooperation and awareness will help them do their job. Guards are on duty 24 hours a day 7 days a week (including holidays). For all emergency or security concerns, or if no guard is available please call FPS Denver Mega Center at 1-877-437-7411.
Joint use/shared services
Standard services and amenities (fitness center, health unit, concessions, conference rooms, etc.) are commonly included as part of the rent charged by GSA.
Conference rooms are available for tenant use. Conference rooms C, D and E are located on the third floor, and conference room 8529 is on the eighth floor. Conference room C seats approximately 30 occupants, conference room D seats approximately 15 occupants and conference room E seats 50 occupants. Conference room 8529 is more of an executive meeting room and seats up to 80 occupants comfortably.
Please contact the GSA Property Management Office at 213-894-3742 to schedule use.
Building operations
Maintenance & Service Requests: Please contact the GSA Property Management Office at 213-894-3742 during the hours of 7 a.m. to 5 p.m. Monday through Friday, excluding holidays, for janitorial, HVAC, elevator, lighting, or any other service provided by GSA in our building.
Custodial Services: GSA provides cleaning for assigned space equal to commercial cleaning for similar space. The following services are standard: vacuuming, sweeping and dusting; emptying trash; servicing restrooms, lobbies, corridors, and other common areas; servicing loading docks and platforms; and pest control. Carpet spot removal can be done on an as-needed basis. Overall shampooing is done as a reimbursable service and should take place on a regular basis to preserve the appearance and condition of the carpet.
Lighting/HVAC: Ten hours of heating, ventilation, air conditioning, and lighting are provided at no additional cost during normal duty hours. Additional service outside this timeframe is available on a reimbursable basis with advanced notice to the GSA Property Management Office at 213-894-3742.
Utility Closets: Tenant and tenant vendor access to electrical and telephone closets can be obtained by contacting the GSA Property Management Office at 213-894-3742. Please do not install equipment in these closets without first contacting the GSA Property Management Office.
Tenant Controlled Space Alteration: Space alterations should not be performed without first contacting the GSA Property Manager. GSA can provide alteration solutions to meet your needs. Alteration projects are normally funded through a Reimbursable Work Authorization (RWA). Also, it is building policy that work that might disrupt building tenants (e.g. paint fumes, construction noise, etc.) be accomplished after standard building operating hours.
Miscellaneous topics
Occupant Emergency Plan: As the lead tenant in this building, U.S. Citizenship and Immigration Services is responsible for creating and updating the Occupant Emergency Plan. Please take time to become familiar with it, and participate in Building Security Committee meetings.
Displays: Please do not post or display any material outside tenant space without first contacting the GSA Property Management Office at 213-894-3742.
Personal Property: Please do not put surplus items in building common space (i.e., corridors, elevators, loading dock, etc.). Doing so may impede egress should the building need to be evacuated. GSA will be glad to advise you about excessing surplus property.
Loading Docks: The loading dock is open from 7 a.m. to 5 p.m. Scheduling the use of the loading dock for deliveries, moves, etc., can be arranged through the GSA Property Management Office at 213-894-3742. A guard must be present at all times while basement doors are open, so it is imperative that the GSA or on-site maintenance contractor be informed at least 24 hours advance to make these arrangements.
Recycling: Tenants are encouraged to take advantage of the building-wide recycling program, which includes paper and cardboard. Any questions regarding recycling, please contact the GSA Property Management Office at 213-894-3742.
GSA is committed to healthy, sustainable environments in all federal buildings. The agency will continue to provide tenants with the latest information on projects occurring in the building on this page.