Douglas Commercial Land Port of Entry
The new Douglas Land Port of Entry is a planned commercial port construction project 4.5 miles west of the existing Raul Hector Castro LPOE in Douglas, Arizona. Upon its completion, U.S. Customs and Border Protection will permanently relocate commercial inspection operations from the Castro LPOE to the newly constructed dedicated commercial Douglas LPOE. The project, funded by the Bipartisan Infrastructure Law, will significantly expand commercial vehicle inspection capacity and allow the processing of oversized mining equipment too large to cross through the Castro LPOE. Furthermore, relocating commercial operations to the Douglas LPOE and away from downtown will support municipal redevelopment plans for its historic downtown district and help transform Douglas into a 21st-century regional tourism gateway and commercial transportation hub.
The U.S. General Services Administration is developing a master plan for both projects in Douglas to ensure seamless project delivery and provide the best value for the American taxpayer. The port project is already spurring additional investments with the construction of a new utility corridor along State Route 80, a new industrial warehouse and business park zone, the installation of broadband internet infrastructure, as well as the chance to bring new construction, service, and manufacturing jobs to this remote region in Southeast Arizona.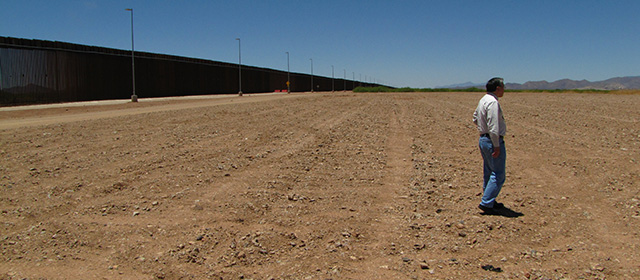 Bipartisan Infrastructure Law
We received $3.4 billion to invest in our nation's infrastructure and competitiveness. The law provides funding for LPOE modernization projects that will create new good-paying jobs, bolster safety and security, and make our economy more resilient to supply chain challenges — all while serving as models for sustainability and innovation.
Visit the Arizona LPOE page for an overview of BIL projects there, as well as priorities, benefits and further information.
Sustainability opportunities
We will increase energy and water efficiency (including renewable energy and fossil fuel free measures), adhere to sustainable design principles, and minimize climate risk liabilities above the minimum performance criteria in a manner that is life cycle cost-effective.
Community impact
The Douglas and Castro LPOE projects jointly represent the most significant port infrastructure federal investment in a generation. Not only will the Douglas LPOE address past environmental justice issues by relocating commercial operations away from downtown communities, but it also sets the stage to boost the regional economy with a commercial inspection capacity that will exceed that of the Castro LPOE. The port's economic potential is attracting private investment in nearby supporting commercial infrastructure and the installation of new utilities.