Grand Portage Land Port of Entry
This LPOE is within the Grand Portage Indian Reservation about five miles northeast of Grand Portage, Minnesota. The port serves passenger vehicles and pedestrians crossing between the United States and Neebing, Ontario, Canada. The route has allowed Native Americans, explorers, and voyagers to bypass high falls, cascades, and gorges for thousands of years.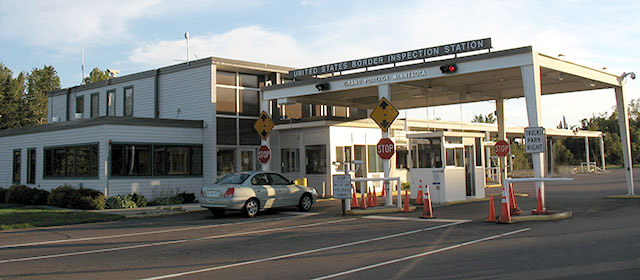 LPOE details
Fact sheet: Grand Portage LPOE project [PDF - 170 KB]
Address: 9403 MN-61, Grand Portage, MN 55605
Year constructed: 1965
Port size: 7.7 acres
Budget: $92,585,000
Primary tenants:
U.S. Customs and Border Protection
Current status
GSA hosted an industry day event on Oct. 18, 2023, where participants provided industry feedback concerning phasing, scheduling, task challenges, supply chain forecasting issues, and acquisition strategy.
Environmental review
The Draft Environmental Impact Statement public scoping hybrid meeting was held on Oct. 5, 2023.
Local updates
Oct. 5, 2023:
Public scoping meeting held
Aug. 8, 2023: Construction Manager as Advisor contract award.
July 11, 2023: Memorandum of Understanding signed by Grand Portage Band of Lake Superior Chippewa to act as a cooperating agency.
June 14, 2023: Formal tribal consultation meeting with the Grand Portage Band of Lake Superior Chippewa, the Minnesota Department of Transportation, the U.S. Department of Housing and Urban Development, and Indian Health Service. 50% Program Development Study submission. 
March 14, 2023: Formal tribal consultation meeting with the Grand Portage Band of Lake Superior Chippewa and the Minnesota Department of Transportation. 
Nov. 4, 2022: 35% Program Development Study submission.
Sept. 13, 2022: First onsite tribal stakeholder meeting.
Sept. 8, 2022: NEPA Environmental Assessment contract award.
Aug. 25, 2022: Architect/Engineer contract award.
Project news
Sept. 26, 2023
GSA to host public scoping meeting for Grand Portage LPOE
Aug. 30, 2023
GSA Awards $6.8 Million for Grand Portage LPOE CMa
Oct. 6, 2022
Biden-Harris administration awards Grand Portage border project contracts
Project timeline
Planning
Design
Construction

NEPA award
Fall 2022

Design award
Winter 2024

Construction award date
Summer 2026

Substantial completion
Summer 2029
Bipartisan Infrastructure Law
GSA received $3.4 billion to invest in our nation's infrastructure and competitiveness. The law provides funding for LPOE modernization projects that will create new good-paying jobs, bolster safety and security, and make the economy more resilient to supply chain challenges — all while serving as models for sustainability and innovation.
Visit the Minnesota LPOE page for an overview of BIL projects there, as well as priorities, benefits and further information.
Sustainability opportunities
Since the extreme climate of northern Minnesota will have a direct effect on the energy use and materials at this facility, the project will use long-lasting materials, which are sustainable, climate resilient, low maintenance, functional, technologically efficient, and flexible. GSA will use high-performance green technology to reduce energy use 20%.
Passive energy-saving strategies may include:
Capturing internal heat gain.
Reducing heat loss with window glazing, thermochromic glass films, airtight assemblies, and above-code-minimum insulation.
Incorporating thermal bridging, passive solar heating, and daylight harvesting.
Active energy-saving strategies may include:
Geothermal heating and cooling.
Heat recovery systems.
Energy-efficiency building automation controls.
LED lighting.
Energy generation through photovoltaic and wind turbine systems.
Electric vehicle charging stations.
The facility will be designed to be net-zero carbon ready and achieve LEED Gold standards.
Community impact
The redesign and modernization of the port, which is second largest in Minnesota, will provide better support for its national security and international commerce functions. Additional lanes and a wider commercial truck lane will shorten vehicle processing times for tourists and residents accessing local community businesses, including Ryden's Border Store, Grand Portage State Park, Grand Portage Lodge and Casino, Grand Portage National Monument Heritage Center, and the town of Grand Marais.