Phoenix Federal Building and U.S. Courthouse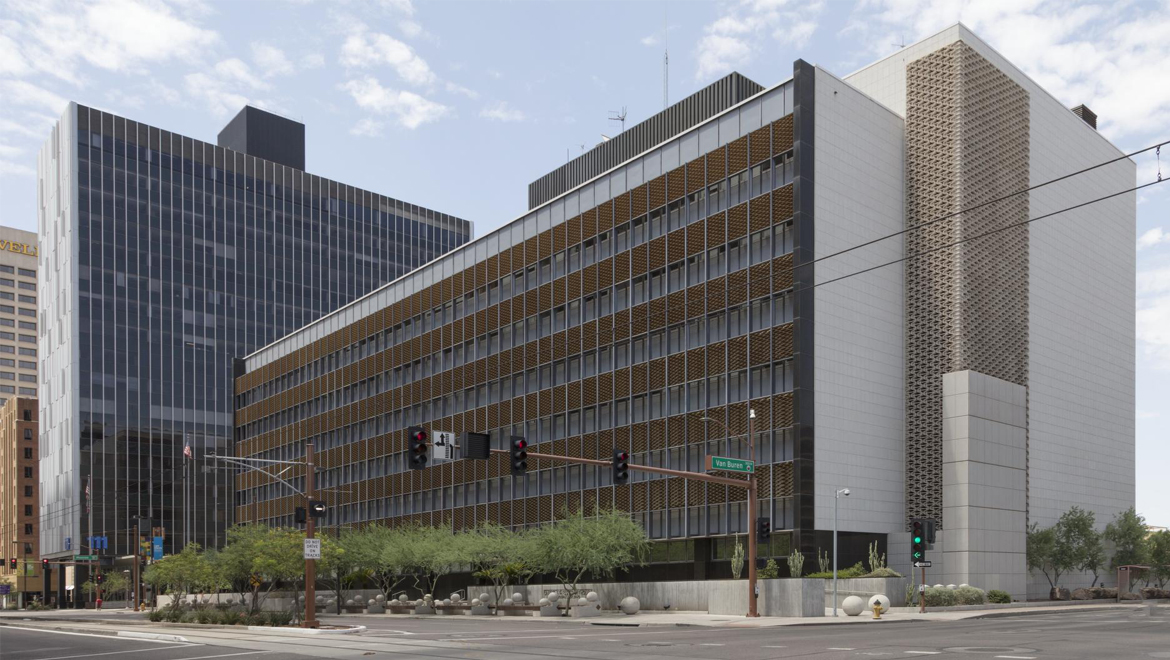 For the public
---
U.S. Bankruptcy Court
U.S. Department of Agriculture
U.S. Department of Labor
U.S. Department of Health and Human Services
USAccess HSPD-12 credentialing office
Floor 5, suite 500
Tuesday-Thursday 8:30 a.m.–4:30 p.m.
602-254-6605
Metered street or paid garage parking in the area
Vending machines, Floor 1
The nine-story building was designed in 1958 by Edward L. Varney and Associates, and Lescher and Mahoney, Ltd., and constructed in 1961. The architectural style is Modernist with influence of New Formalism. You can see the two styles blended with the building's simple horizontal massing and materials, including metal sunshades, decorative precast concrete panels, and polished granite.

For our tenants
---
24/7 including federal holidays with access card
602-252-1224, Court Security Officers
For credential card programming, visit Basement Room B709.
Metered street or paid garage parking in the area
7 a.m. - 5 p.m. weekdays
Give minimum 24-hour notice ahead of moves, GSA escort required.
Attendant required for vehicles parked more than 30 minutes.
Federal employees only
Basement, room B137
6 a.m.–6 p.m. weekdays
Federal employees only
Floor 1, suite 106
8:30 a.m.–5 p.m. Tuesday–Thursday
Conference room on Floor 2, Suite 205
35 max occupancy, no audiovisual or Wi-Fi
7 a.m.–6 p.m. weekdays, except federal holidays
Reservations required, no cost.
After-hours use possible with overtime utility and security cost.
Didn't find what you need? Contact USA.gov.