Melvin Price Federal Building and U.S. Courthouse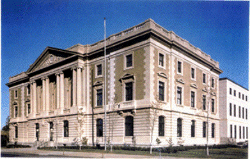 750 Missouri Avenue
East St. Louis, IL 62201-2954
View map
The Melvin Price Federal Building and U.S. Courthouse is located in the central business district of East St. Louis. The courthouse was named after former U.S. Representative Charles Melvin Price.
Property Manager: James Hill (618-482-9377)
Public Hours: 8 a.m.–4:30 p.m. Monday through Friday (except federal holidays)
For building service calls, contact the property manager above. For individual agency services, call the following:
Bankruptcy Court - 618-482-9400
District Court - 618-482-9371
Marshals Service - 618-482-9336
Probation - 618-482-9375
Public Defenders - 618-482-9050
Social Security Administration - 877-700-4849
For other federal government information, call toll-free 1-844-USA-GOV1.
Public Parking and Transportation
The Price Courthouse has no onsite parking. Parking is available in a leased lot adjacent to the building. Public transportation is available via train and bus, with stops for both located one block from the building. For schedule and fare information, see St. Louis Metro Transit.
Key Tenants
The Price Courthouse is home to the U.S. District and Bankruptcy courts, as well as offices for the U.S. Attorneys, Magistrate, Marshals Service, Probation and Public Defender.
History and Architectural Features
The 67,800-square-foot courthouse was built in 1910 in the Greek Revival, Roman Revival and Federal styles of architecture. It rises three stories above grade, includes one floor below, and is constructed of gray Indiana limestone. In 1988 a 77,900-square-foot annex was added to the rear of the building. The annex atrium features skylights and an exposed, roof-supporting truss system.
Art in Architecture