International Falls Land Port of Entry
The International Falls LPOE is located on Highway 53 at the foot of the International Bridge across the U.S./Canada border from Fort Frances, Ontario. The 20,419 gross-square-foot facility is the busiest and highest traffic volume port in Minnesota and currently processes more traffic than it was originally designed to accommodate. The project includes design and construction of new buildings in a site expansion and possible conversion of some existing buildings. The design will make a distinct architectural statement conducive to efficient travel, trade, and commerce. The new facility will also address traffic flow, port security, and inspections. The current, functionally-obsolete facilities house only CBP. The proposed new building construction will also house USDA.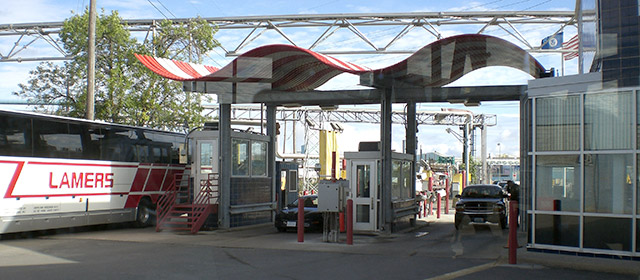 Bipartisan Infrastructure Law
GSA received $3.4 billion to invest in the nation's infrastructure and competitiveness. The law provides funding for LPOE modernization projects that will create new good-paying jobs, bolster safety and security, and make the economy more resilient to supply chain challenges — all while serving as models for sustainability and innovation.
Visit the Minnesota LPOE page for an overview of BIL projects there, as well as priorities, benefits and further information.
Sustainability opportunities
GSA will optimize site potential, including restoration of Rainy River shoreline, and minimize non-renewable energy consumption.
Also, GSA will have an opportunity to use environmentally-preferable products, including:
Porous pavements and other permeable surfaces.
Vegetative swales and revegetation.
GSA can protect and conserve water, enhance indoor air quality, optimize operational and maintenance practices, and obtain LEED Gold certification.
Community impact
Redesign and expansion of this land port, the busiest one in Minnesota with $12 billion in annual trade, will enable increased traffic volume and efficiency.
The local economy is fueled primarily by wood and paper products, led by the region's largest employer, a 100-year-old paper mill on 55-acres along the Rainy River. Local loggers, pulp-additive makers, eateries, stores, and other businesses generate profits by servicing employees, spouses, friends, and relatives of the mill, many of whom commute daily through the port.
Due to the abundance of natural beauty and outdoor recreation, tourism also contributes to the local economy. An expanded port will greatly facilitate tourist movement between International Falls and Fort Frances, Canada.