Diana E. Murphy US Courthouse, Minneapolis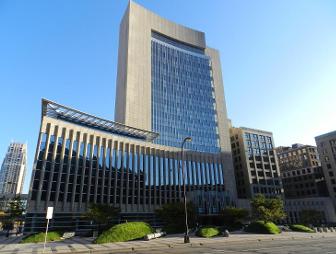 300 S. Fourth St.
Minneapolis, MN 55415
View map
Completed in 1997, the U.S. Courthouse in Minneapolis, Minn., is home to both the U.S. District and Bankruptcy Courts.
The building is named for Diana E. Murphy, a former federal judge who served with the U.S. District and Appeals courts.
Property Manager: Julie Nowak (312-656-6565).
Public Hours:  7 a.m.- 5:30 p.m. Monday through Friday (except federal holidays).
For building services or more information, use property manager contact above. For other federal government information, call toll-free 1-844-USA-GOV1.
Building Access
Visitors must pass through electronic security on the first floor. Beyond the lobby security entrance, six passenger elevators serve floors one through 15, while two additional passenger elevators (southwest corner) serve the parking garage, lobby, and Skyway levels. City elevators on the east side of the parking garage provide private parking access on levels P3 and P4 and street access from the second floor Skyway balcony.
Key Tenants
The building houses the Eighth Circuit Court of Appeals, EPA, Federal Bureau of Prisons, and U.S. Attorneys, Bankruptcy Court, District Court of Minnesota (Probation, Public Defender, Pretrial Services), Marshals Service, Secret Service, and Trustee Program. 
Public Parking & Transportation
Limited metered street parking and two public parking garages are available near the building. SouthWest Transit and Metro Transit have stops within walking distance, along with light-rail service to 17 stations between downtown Minneapolis and the Mall of America.
Building Amenities
Cafe – Lobby level; 7 a.m.-2:30 p.m. weekdays (dining area, private dining room, Skyway terrace seating).
Conference Rooms (2) – Skyway Level (Rm. 259) and 5th Floor (Rm. 509).
Health Unit – 5th Floor; 7:30 a.m.-4 p.m. weekdays (nurse, physician available limited hours).
Minneapolis Skyway Access – 2nd floor and Level P1; 6 a.m.-6 p.m. weekdays (restaurants, shopping, parking).
Vending – Rooms 263 and 505.
Architecture & Landscaping
Standing 30 stories, the courthouse features a modern steel-frame and stone-face design and has won GSA Design Excellence Awards for both architecture and landscaping. The 50,000-square-foot plaza, designed by Martha Schwartz, features grass mounds planted with jack pines, suggesting the glacial drumlins common to Minnesota during the Ice Age.
Art in Architecture
See the fine art collection at this building.