Paul D. Wellstone Federal Building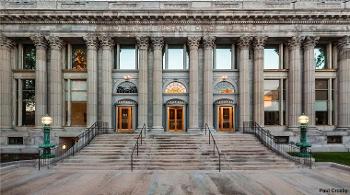 212 Third Ave. South
Minneapolis, MN 55401
View map

The Paul D. Wellstone Federal Building in Minneapolis, Minnesota, was named after Sen. Paul Wellstone with the passage of Public Law No: 117-242 on Dec. 20, 2022. The three-story building was first constructed for use as a U.S. Post Office in 1913 and transformed into a federal office building in the 1930s. Listed on the National Register of Historic Places, the building covers one square block and is within blocks of the Minneapolis U.S. Courthouse and several state and city government buildings.
Property Manager: Thomas Wasut, 612-443-8966
Public Hours: 8 a.m.– 4:30 p.m. Monday through Friday (except federal holidays)
For more building information or service calls, use property manager contact above. For other federal government information, call toll-free 1-844-USA-GOV1.
Key Tenants
The building houses offices for the Department of State–Passport, HUD, Housing and Urban Development and the National Labor Relations Board. If you have questions for the Passport Office, visit www.travel.state.gov.
Public Access
Handicapped access is located at the front of the building via a lift. Though the building is open 8 a.m.– 4:30 p.m. Monday through Friday (except federal holidays), each tenant agency may have its own public hours.
Parking and Public Transportation
The on-site parking lot, located to the rear of the building, is for contract parking only. However, the area surrounding the Minneapolis Federal Building has many public parking options. Public transportation is within walking distance via the Metro Blue Line.
History and Architectural Features
The building's Neo-Classical style is evident in the two-story Greek Corinthian columns lining the building's exterior. The north, south, and east elevations of the building are clad in granite while the west elevation is clad in brick.
The shortcut for this page is www.gsa.gov//minneapolisfb.